Commercial Cleaning
Other companies may advertise that they do commercial cleaning in addition to residential cleaning, but that could include only 1-2 commercial jobs a year for them. KMS does commercial cleaning regularly for many clients, including airports, retail malls, energy companies, casinos, hospitals, schools, industrial facilities, plus other healthcare facilities. We are experienced in helping hospitals and other medical facilities meet their joint commission assessment goals.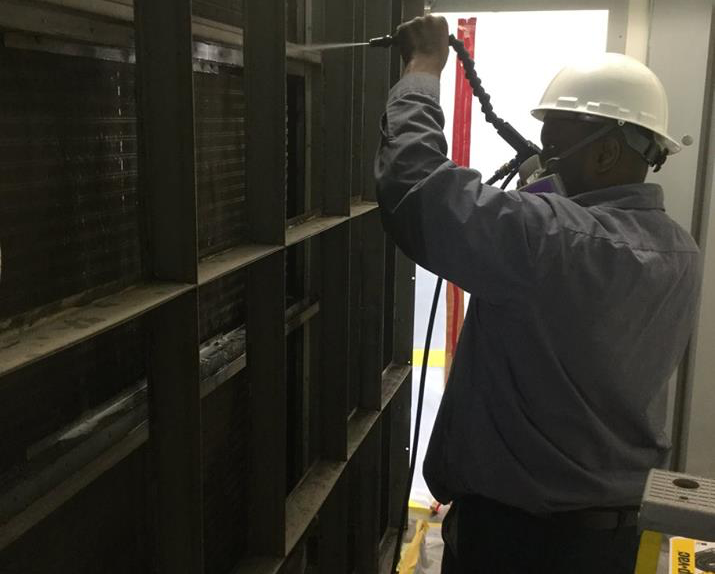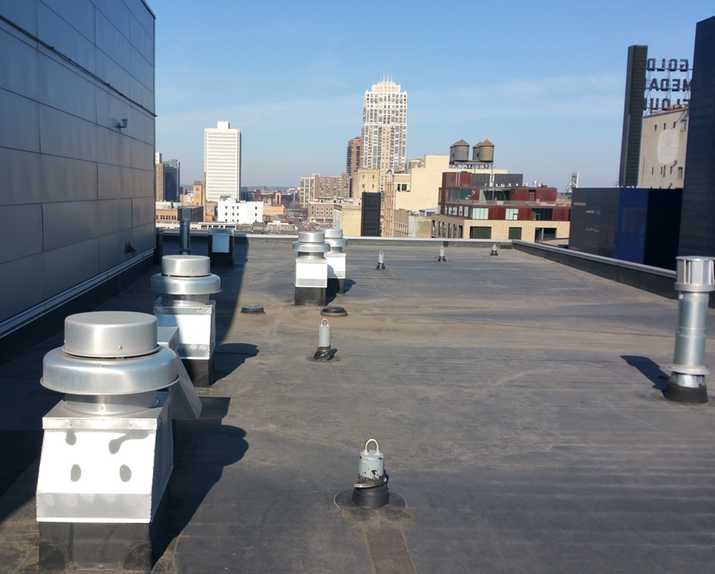 Take advantage of our experience and expertise to ensure your job is done thoroughly and correctly every time! KMS Air Duct Cleaning has more nationally certified air duct cleaning technicians than anyone in the United States.
Commercial Services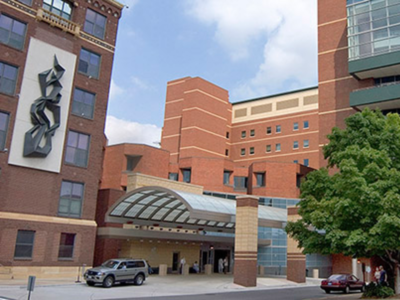 KMS commercial customers receive the individualized, specialized service of a residential company without sacrificing one iota of the expertise and training of a commercial technician.
Dirty air ducts have a build-up of mold, allergens, dust, dust mites in the ducts, that are re-circulated throughout commercial facilities, despite furnace filters.  We provide services for most varieties of ducts, including:  gravity, forced air, and air-to-air exchange.
KMS is a duct cleaning, mold, and asbestos remediation expert –  meeting the stringent requirements for the indoor air quality industry to include: particle dust, lead, mold, and asbestos remediation.
KMS, also, specializes in application of antimicrobial sealants. This is a safe, new technology available from us that inhibits the growth of micro-organisms on coated surfaces. After the contaminant has been removed, our trained technicians apply an anti-microbial, anti-mold coating to the inside walls of your air ducts to reduce the chances of the contaminant growing back.  This provides schools, offices, hospitals, etc., with a new element in the effort to ensure good indoor air quality. Due to the powerful chemicals used, the State of Minnesota requires anyone applying the sanitizer or coating to be certified as a pesticide applicator. KMS technicians have this certification and have been rigorously trained in the proper application of the chemicals.
KMS utilizes state-of-the-art indoor air quality equipment, including robotics and all types of containment devices to meet the needs of our sophisticated clientele.
KMS is an expert in commercial HVAC cleaning. Our commercial clients include airports, casinos, schools, retail malls, hospitals, law enforcement centers, energy companies, medical facilities, industrial facilities and universities, to name a few. With 27 years of business experience in HVAC cleaning and decontamination, KMS brings a level of expertise to ensure your job is done thoroughly and correctly every time.
KMS conducts comprehensive examinations of HVAC components and systems to determine whether they are contaminated with dust/debris or microbial growth which compromises system performance, indoor air quality, or building occupants. KMS, also, has a Certified Project Management Professional on staff.
KMS Commercial Services include:
Air Duct Cleaning

Air Handler Cleaning

Coil Cleaning (Evaporator and Condenser)

Dryer Vent Cleaning

Bathroom Exhaust Vent Cleaning

Cleaning and Inspections

Roof Debris Cleaning

Sidewalk and Building Exterior Cleaning
Screen Cleaning

Cooling Tower Cleaning

VAV and Fan Coil Cleaning

Industrial Cleaning

Filter Changing

Mechanical Room Cleaning and Painting

Haulers/Movers

Poly Containments
Eyewash Inspections

Administrative Assistance

Hot Works Permit

Confined Space Trained Technicians

Demolition

Duct Cleaning for Fire and Water Restoration

Equipment Inventory
For more information on the following services for our commercial customers, click on the titles below to get a detailed description of the service.
Contact KMS at 612-627-9038 or email sales@kmsclean.com
Quality Service Guaranteed
We have over over 30 years of experience and guarantee you the job will be done right the first time!  We do commercial cleaning regularly for hospitals, schools, universities, health clubs and Fortune 500 Companies. KMS brings a high level of expertise to every job!  We will inform you of any problems we encounter during our work and provide you with a comprehensive report upon completion, including before and after photographs of each area. 
Have questions about our Capabilities? View out our Capabilities Statement. 
We take Great Care to treat your facility as we would our own.

 

We will adequately protect the area prior to starting our cleaning and make sure we clean up and leave the areas cleaner than when we arrived.
KMS Air Duct Cleaning has more nationally certified air duct cleaning technicians than anyone in the United States.